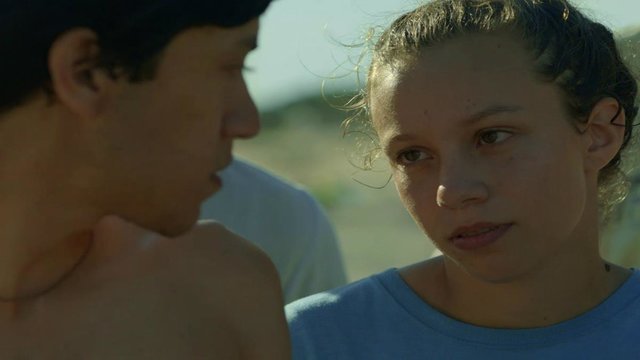 Still waters run deep. The metaphor is apt when discussing the new film The Sharks (Los Tiburones), an atmospheric meditation on unrequited adolescent attraction.
Set in a beachside town, the film centers on 14 year old Rosina (Romina Bentancur). Rosina is something of an enigmatic character. As portrayed by Bentancur, she mostly maintains a cool demeanor which may hide deeper, stronger and perhaps even explosive emotional currents.
Rosina is first seen running towards the beach away from her father. He is angry that she has injured her sister significantly enough that the sister needs an eye patch. Rosina claims it was an accident, though as the film unfolds viewers can make up their own minds as to whether the injury was truly unintentional.
While at the beach, Rosina sees what she thinks is the dorsal fin of a shark. Confirmation of sorts that a shark may indeed be in the beach's waters arrives when the mangled carcass of a sea lion washes up on shore. In what could elicit a wry smile from viewers familiar with Steven Spielberg's Jaws, there is talk among the local residents about attempts to suppress news of the shark for fear of scaring away the tourists.
For the most part the issue of a shark off the town's shore is secondary to Rosina's burgeoning interest in a somewhat older boy, Joselo (Federico Morosini) whom she has met on a summer job. The two meet up one evening and Rosina is disappointed by Joselo's crude and insensitive behavior. And while Rosina clearly is emotionally invested in Joselo throughout the film, his attitude towards her ranges from cavalier to indifferent. But to paraphrase Glenn Close in Fatal Attraction, Rosina is not going to be ignored, though the atmosphere is generally far more restrained in The Sharks than in the 1987 Michael Douglas potboiler.
Written and directed by Lucia Garibaldi, I have rarely encountered a film that has such a distinctive sense of pacing which can variously be described as leisurely, meditative, or slow (and not necessarily in a negative sense). Time can occasionally even feel oppressive in the film which perhaps was designed to mirror the atmosphere of a provincial town where not much may be happening.
But the slow tempo serves a strategic function, making the dramatic conclusion seem all the more startling. For beneath Rosina's deadpan and distant affect, there lurks someone who is capable of decisive action. Perhaps like a shark lurking beneath the waves.
The Sharks was released on April 14 on Video on Demand and will be released on DVD on April 28. It is a memorable film which I found lingering in my mind days after viewing it.