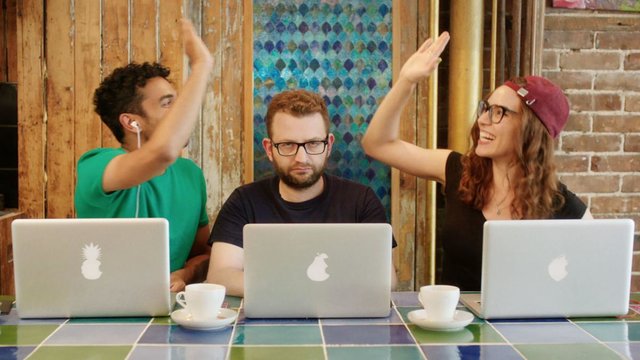 Considering the centrality of apps in today's culture the new film Appiness could hardly be more topical. A quirky film shot in just 11 days, the movie centers on Eric, a young man in his late twenties who has lost his job. He teams up with Raj, a long lost friend, to design a new app which they hope will lead them to riches.
The film is directed by Eli Batalion who also plays the role of Eric. Applness is Batalion's feature directorial debut and I recently posed some questions to him about his new movie.
What was the impetus behind the story of Appiness and what issues is the film exploring?
At a certain point in my late 20's, after having started my career in fringe theatre, I was working in and around the tech world amongst a bunch of startups. As a writer I was drawn to the subculture of people that worked in tech and its priorities and thought that it was something that was interesting to explore (and was surprised by how few people had attempted to cover this world before). More importantly, as a comedy writer, I thought the whole scene was worthy of parody for all of the insanity that can be found in its values and dynamics, and as a comedy writer, that's usually where my process starts. When it came time to explore the right character journey on which to describe this world, the most natural one I was drawn to telling was not surprisingly sort of my own, which was about someone trying to find their place in the world at a bit of a "late" point of deciding what they're doing with their lives, and that became the voyage that the lead character Eric Newman takes.
Can you discuss how the film was cast?
Through our EP Philip Kalin-Hajdu I was introduced to Bruno Rosato and Kate Yablunovsky who cast a lot of projects out of Montreal. For a super indie film, they did a super job somehow making over 25 very specific English speaking roles materialize in a primarily French city! The only "import" we had was bringing in our lead Varun Saranga from Toronto, but everyone, including my fellow lead Amber Goldfarb, was a Montreal local.
Was there anything particularly memorable or unusual that happened during the course of making the film?
Well, the very brief amount of time we had to shoot this film for a variety of reasons - totaling a whopping 11 days - pretty much was the basis for making the whole thing memorable (and yet at the same time totally immemorable because it blew by so fast!). I do recall one of the more interesting things in this tight time frame and budget was shooting in a bar – while that bar was serving. It's always interesting having to dedicate a certain portion of your crew talking down intoxicated people who want to "star" in your movie…
Throughout the film, there was a lot of being able to get just the right amount of coverage in a particular scene because of how fast it was going, and finding the right ways, slaved over in post-production, for how to work with what we had. In the end, editor Mark Bendit did a bang-up job of piecing it together. I've come to realize that there is an inverse relationship between how much time you can dedicate to getting it right on set vs. how much time and thought and hair-pulling-out you have to do in post-production to either re-create your script from limited footage or create effectively a new (and hopefully better) script from the actual footage that you have. On the other hand, there's something nice about keeping your footage naturally limited and having everyone on their toes knowing that any take can be their last! I think it produced the best results and simplified the editing process in some ways.
This is the first feature film which you directed. What advice would you give other first time directors based on your experience creating Appiness?
- - Preparation is key, and you will probably not have to apply most of what you've prepared for once you hit the set, but like wearing really nice socks to a job interview, it's about the self-confidence of knowing where you're at as you head into things. While it's more for a producer than a director, if you don't have the money, you can make up for it with time, and particularly rehearsal or at least coffees or phone calls in advance with actors are key. Same goes for any of your key creatives with whom you probably should have already had many production meetings.
- Line yourself up with the right DP, 1st AD and Script Supervisor.
- Don't skimp on casting since that's going to be massive for your film quality. If you do get a casting agent, don't be afraid to explore avenues other than conventional regularly auditioning actors if you feel that the role calls for something different.
- Don't skimp on sound! This is the number one area that gets neglected, particularly since it's virtually the last thing in the film process. Invest in recording great sound and invest in great audio post-production.
- While production can at times feel like a sprint, the entire process from pre-production through to post-production is definitely a marathon so conserve your energy and enjoy the process. If you're producing as well in all this, and you're also trying to raise the money to even get to pre-production and you're also trying to sell the film afterwards, this applies 10 times over…
Are there other filmmakers whom you admire?
Many! Speaking in the comedy genre in specific, there are a few in specific that stick out:
Mike Judge – I love the way that he manages to intelligently and hilariously caricaturize worlds in both live action and animated format. I also really resonate with him in terms of some of the areas he likes to focus on, particularly things in the corporate or tech world which you can tell he's clearly knowledgeable about, and also music, which he himself has created for some of his projects (and I've tried to do the same with mine – I actually co-created all the music for Appiness with longtime musical collaborator Joe Barrucco).
Edgar Wright – Apart from telling interesting and relatively unique stories, he does a great job of elevating and always pushing the viewer forward.
Adam McKay – like Mike Judge, I appreciate how his analytical mind and interests have taken him into movies about politics and financial crime, while at the same time he is clearly versed in sketch comedy.
Judd Apatow – Having started up as a stand up performer and aficionado, I think that love for that type of comedy shines through.
Mel Brooks – if it weren't for Spaceballs, I might not be doing this interview today!
Would you like to discuss your other projects?
For the past few years I've been doing a web series project called YidLife Crisis (yidlifecrisis.com) all about Jewish life in my native town of Montreal, and done through the Yiddish language which is a sort of surreal and wild concept. It's gotten my partner Jamie Elman and me a lot of attention and we've built a whole sort of career off of it touring with live shows, and even starting to do documentary content. While it's very niche content, I think people will find the themes are quite universal and are intended to actually break down some barriers and misconceptions around some difficult topics by using comedy to do so.
Other than that, as a follow-up to Appiness and my solo directorial career, I'm headed into darker comedy directions (a sign of the times? Perhaps) on my next feature.