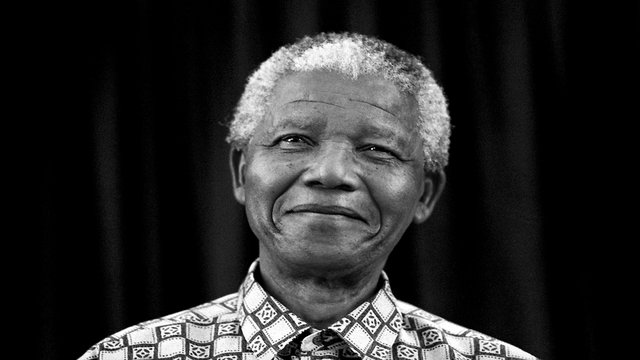 The National Black Theatre is currently presenting a play about one of the great political figures of the 20th and early 21st centuries – Nelson Mandela. Written by John Ruiz and Yolanda Brooks, Mandela is a taut drama about a figure whose endurance and magnanimity were so incredible his achievements must be viewed on both a political and spiritual level.
The play chronicles Mandela's early political activism in South Africa against apartheid which resulted in his being given a life sentence of imprisonment by the white South African authorities. The bulk of the play takes place in a prison on Robben Island where Mandela was confined.
Serving a life sentence would be daunting under any circumstances and particularly appalling if the sentence is unjust. Some of Mandela's political colleagues who were also sentenced with him crack under the tragically absurd situation - but Mandela is able to offer succor by pointing to the dignity of not bowing to the injustice of a racist political regime. Mandela and his colleagues' well known presence in prison was obviously a factor which steadily diminished the legitimacy and support for the government which housed them there.
Robert Greene gives a thoroughly convincing portrayal of Mandela's poise and strength. The play also details the suffering that Winnie Mandela, Nelson's wife, endured during his imprisonment. As Winnie Mandela, Nadijah A.K. provides a memorable performance of the ordeals Mandela's wife had to endure during her husband's incarceration. (Winnie Mandela experienced periods of imprisonment as well).
As the sadistic warden of the prison where Mandela is housed, John Shortt certainly exudes a sinister gravitas. The measured pace of his delivery accentuates the menacing quality of his character and Shortt's portrayal acts as an effective counterweight to Mandela's heroism. Tyler McCall as the warden's assistant and prison guard radiates a certain sensitivity which enhances the credibility of the unexpected dramatic arc of his character.
Shakespeare wrote that "The night is long that never finds the day." Mandela had to endure a very long night but he was of course ultimately released from prison and was eventually elected President of South Africa. The play records the reception he received in New York in 1990 when he was greeted by Mayor David Dinkins and multitudes of tumultuous and ecstatic New Yorkers. Dinkins is alternately portrayed by Keith Wright and Richard Scott who are part of a very talented cast which also includes Thaddeus Birkett, Jimmy Garrett and Lamine Thiam.
Sets in Mandela are minimal which keeps the audience's attention centered on the thematic elements of the drama. Very effective use is made of video projections. Under John Ruiz's direction the whole production is well-paced and tightly focused.
Although the issues of racism and South Africa's history are obviously very important, I do think that there are larger issues involved which give the drama even more universal significance. Mandela's life often reminds me of Franklin Roosevelt's. Mandela was confined in prison for 27 years and Roosevelt spent the last 24 years of his life basically confined to a wheel chair. Both could have been embittered and psychologically devastated by these tragedies. To one extent or another virtually everyone's life is tinged by setbacks and sadness. A choice can be made to be consumed by the darkness or to transcend it. Mandela and Roosevelt chose the latter course and became beacons of light, compassion and hope for all humanity.
Mandela is playing through November 17 at the National Black Theatre located in Manhattan.