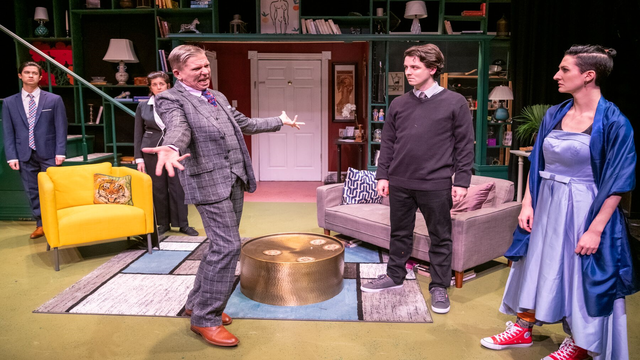 In a recent interview with S.P. Monahan I referred to his new play Aunt Jack as lively. I made this comment after only seeing the script. After viewing a performance during its New York premiere I think that lively is indeed an apt word to describe the play. For the production of Aunt Jack currently performing at Theater for the New City in Manhattan is indeed lively. Very, very lively. And entertaining. And often thought provoking.
Because of its many plot points and nuances in its themes, any brief summary will probably give short shrift to the basic complex texture and arguments of Aunt Jack. But in brief, the play centers on twenty-something Norman who has moved to San Francisco after breaking up with his boyfriend Ian. Norman returns to New York when George, his gay historian and activist father, takes ill.
Norman has brought with him his new love interest, Andy. Norman's other father, Jack (a famous drag performer and cabaret star) and Phyllis (Norman's lesbian biological mother) are clearly astonished at Norman's new choice of a partner. For Andy (plot spoiler) is actually a woman, unsettling everyone's preconceived notions of Norman's identity.
What sounds a little dizzying and like the set-up for a potentially superficial farcical romp actually provides the framework for a freewheeling and subtle examination of human identity. At the core of the discussion is an idea expressed by George that "you can't choose who you fall in love with." The play embraces a complicated view of human nature in which those choices can be unpredictable and varied. (Curiously, the symbol of Cupid and his arrow practically implies that attraction is governed by forces outside of one's control).
Also added into the mix are perspectives on how different generations can view sexuality and identity. While this may sound potentially heavy, all of these themes are addressed within generally comedic and fast paced situations and dialogue.
Aunt Jack has an exceptionally fine cast including Andrew Dawson (George) and Shauna Bloom (Phyllis). Charles Baran as Jack completely embraces the role of a drag performer without giving in to any disproportionate flamboyance (Hamlet - "suit the action to the word" - would be proud). Matthew Menendez delivers a vivid and spry portrayal of Ian who has a very funny speech in which he tries to convince himself that he doesn't miss Norman. Amusingly, Ian is not too successful in this regard.
Morgan Sullivan's portrayal of Andy is particularly intriguing. With her relentless free spiritedness and embrace of her own complex sexuality (and probable effect on Norman) I wonder if Andy is perhaps the real hidden protagonist of the play. Monahan himself sensitively performs the role of Norman with Jack Bowman performing the role on some nights. I happened to see one of Bowman's performances as well and I thought his portrayal was also thoughtful and self-assured.
Monahan displays a deft touch as a writer dealing with serious and sometimes tragic themes within a generally comic atmosphere which makes the more sober issues in the play easier to contemplate. He has a gift for keeping the atmosphere entertaining. At times I was reminded of comic situations in Rossini operas in which there are so many funny variables at work that the whole musical structure feels like it might fall apart if not for the skill of the composer - like a juggler keeping many balls in the air.
The only time in Aunt Jack where I felt like a ball might have fallen to the ground was at a point late in the show where Ian displays some dramatically unexpected behavior. Although there were actually some very interesting ideas at work in this section, it felt perhaps like one unexpected plot turn too many in an otherwise well structured play. With the exception just noted, the surprising plot twists are well placed – there was an audible gasp at one of them at a performance that I attended.
Both director John Lampe and set designer Anna Driftmier make creative use of the not enormous stage, with Driftmier creating a very appealing and detailed set of a two story Manhattan apartment. Their work is highlighted by the effective lighting design provided by Kirk Bookman and Steve O'Shea.
No brief summary can really do justice to the thematic terrain that is covered in this play. It seems to delight in examining one thematic permutation after another relating to human identity and attraction. The 90 minute running length is densely packed with a lot of laughter and intriguing, challenging ideas. And those 90 minutes fly by quickly. Very, very quickly.
Aunt Jack is performing through June 28 at Theater for the New City in Manhattan.
Photo: Russ Rowland
---