In this article…

Video via The Big Lead
Stop the presses, stop the game, just stop everything you are doing. Odell Beckham Jr.'s one-handed circus touchdown catch last night is the catch of the year in the NFL. It topped every catch that happened earlier in the year and it topped everything that will happen the rest of the season. It is over, and Beckham wins by a landslide.
Calvin Johnson, Brandon Marshall, Demaryius Thomas, Dez Bryant, Jordy Nelson, anyone else. No one in the league is going to do something better than what Beckham Jr. did last night. Look at the photo below of Beckham, fully extended falling back, just snatching the ball with that monstrous right hand of his. Who has done something that athletic and that amazing this season?
Just watch the GIF over and over at the bottom of the post, via Deadspin, and try to tell me you've seen something better than that this season. Please, if you've seen a better catch, tell me, because I haven't.
So what the New York Giants ended up losing the game to the Dallas Cowboys. So what the Giants' season is practically in the dumps. New York has, arguably, the most impressive rookie receiver in the league, one that has come in right away and made the catch of the year in a ho-hum game where he puts up 10 catches, 146 yards and two touchdowns. It might be a disappointing remainder of the season for the Giants, but Beckham is shining through as a serious bright spot and someone that can be a centerpiece of the offense for years to come.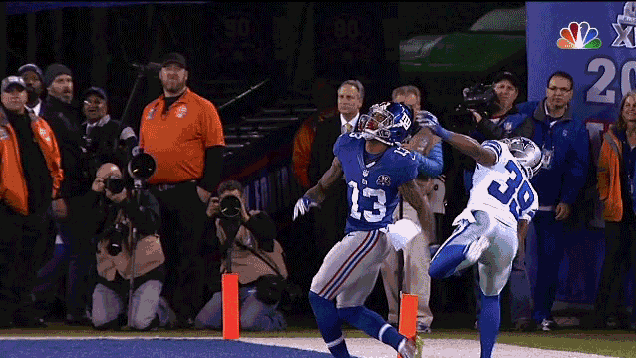 Want great tickets but hate paying fees? check CHARGED.fm to find the best NFL tickets and NO FEES.