In this article…

In a deal that stunned the baseball world on Thursday morning, just hours before the trade deadline, the Oakland Athletics upgraded their already stellar rotation in a huge way. Jon Lester is going to Oakland in a blockbuster deal in which the A's traded their all-star outfielder (and Home Run Derby champion) Yoenis Céspedes to the Boston Red Sox.
There are only a handful of true ace pitchers in baseball today and Jon Lester is one of them, so this is a move that completely changes the American League. The A's were reported to be in the mix for Lester, but general manager Billy Beane has often been reluctant to make deals for big-named guys. His "moneyball" approach has been the identity of the A's since 1998, but this year Beane has given up a lot to make his pitching staff one of the best in baseball.
Earlier this month, he completed a trade with the Cubs that sent one of the top prospects in the game, shortstop Addison Russell, to Chicago for another top pitcher in Jeff Samardzija as well as solid starter Jason Hammel. That was a move that showed how serious the A's are about winning this season and the Lester deal only furthers that notion.
Lester is only under contract until the end of this season, so the A's are renting him for a run at the 2014 World Series. Lester is 10-7 on the season with a sparkling 2.52 ERA, 1.12 WHIP, and 149 strikeouts. Over the past couple months, Lester has been arguably the best pitcher in the American League and he will greatly improve what was already a spectacular pitching staff. The A's now have Lester, Samardizja, Hammel, Scott Kazmir, Sonny Gray, and Jesse Chavez, so there is not only a ton of talent in this staff but also great depth.
According to Buster Olney, the Athletics have one of, if not the easiest schedule in baseball the rest of the season. Having six capable starting pitchers will allow them to keep their staff fresh heading into the postseason, which is extremely significant.
It was reported yesterday that the Orioles were close to a deal with Lester. The Cardinals, Dodgers, and Pirates were also linked to Lester for the past few weeks.
Meanwhile, Boston fans have to be decently optimistic. Boston fans are smart and probably realize that this is a lost season. What this deal does is it gives the Red Sox an All-Star outfielder for the rest of this season as well as next season. Céspedes is hitting .256 with 17 home runs and 67 RBI, though he has the talent to improve on those numbers the rest of the way. I am actually very confident those numbers will improve now that he has left the spacious Oakland Coliseum to go to the hitter-friendy Fenway Park. Giving up Lester is tough, but there is always the possibility that he returns to the Sox as free agent once the season is up.
Céspedes, who will turn 29 in October, has some of the best power in baseball, as he showed when he was named Home Run Derby champion the past two seasons. Don't believe me? See the GIF below.
He is also one of the premier defensive players in the game. He constantly makes sensational plays in the outfield and can play all three outfield spots, which is important in Boston because of Fenway's unique design. Oh yeah, he also has quite possibly the best arm in the MLB, seen in the GIF below.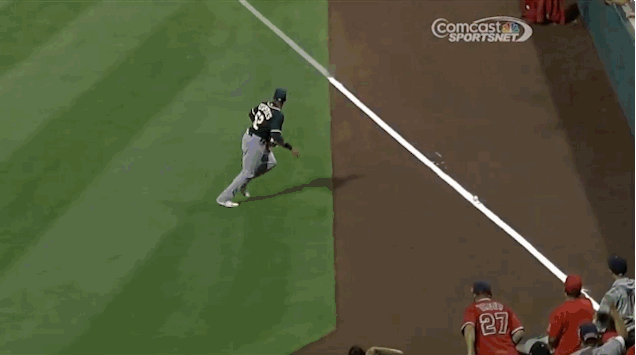 Outfielder Jonny Gomes was also sent to Oakland, which should not be understated. Gomes will most likely be a bench piece, but he is regarded as a great teammate and knows what it takes to win a championship. Overall, this was a deal that benefitted both teams. The A's will now go into October with a loaded rotation and Red Sox fans have a lot to look forward to, as they will get to watch a stud outfielder play in Boston for at least the next year and a half and possibly more if the team resigns Céspedes.
Hopefully this is only the start of the excitement that might ensue today. We will be updating you on all the major moves that happen today, but what a start it is!
Want great tickets but hate paying fees? Check CHARGED.fm to find tickets for less and NO FEES!