In this article…

Clayton Kershaw was dominant last night, mowing down the Colorado Rockies' lineup to pick up his first career no-hitter and the 22nd in Los Angeles Dodgers history. Kershaw's stuff was nasty, as he struck out 15. According to ESPN stats and info, Nolan Ryan is the only pitcher since 1900 to have more strikeouts in a no-hitter (Ryan struck out 15 or more in three of his seven no-hitters). Kershaw is also the only pitcher to strike out 15 batters without surrendering any walks in a no-hitter. The reigning NL Cy Young award winner's fastball was sitting at 95 mph for most of the game and 14 of his 15 strikeouts came via off-speed pitches.
Take a look at just how incredible Kershaw's curveball was last night: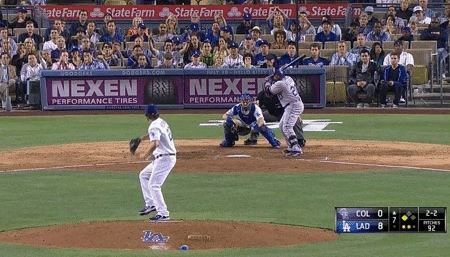 When a pitcher's fastball is blowing guys away at 95 mph, hitters will have no chance at breaking balls that are 74 mph. Kershaw was, in every sense of the word, perfect last night. He needed only 107 pitches to finish the game, walking none. The only baserunner of the game came off of a Hanley Ramirez error. It was only fitting that he finished his gem by striking out Corey Dickerson on a disgusting 87 mph slider, seen in this GIF:
So where does Kershaw's no-hitter rank among the best pitching performances ever? Bill James's Game Score, a metric used to determine how good a pitcher was in a particular game, ranks Kershaw's performance last night as the second best pitched nine-inning game in MLB history. Let's take a look at the top five games according to Game Score:
1) Kerry Wood pitched the best game in the history of baseball (according to James) when he posted a 105 Game Score in a 1998 game against he Astros. He struck out 20 hitters en route to a one-hitter in which he did not walk a batter and did not allow any runs.
2) Kershaw's performance last night was good enough for a Game Score of 102. I have a feeling that the current best pitcher in the world will have a couple more performances like this one in his career. That's how good his stuff is.
3) In 2012, Matt Cain pitched a perfect game against the Astros, who seem to be on the wrong end of these types of games often. Cain had a Game Score of 101 after striking out 14 batters.
4) Nolan Ryan had seven no-hitters in his 27-year career, but none were better than his 1991 performance against the Blue Jays. Ryan struck out 16 batters, walking only two. He finished the game with a Game Score of 101.
5) Some guy named Sandy Koufax dominated the Cubs in a 1965 game, striking out 14 en route to a perfect game. His Game Score was also 101.
In other words, Kershaw's performance last night was truly historic. While I will refrain from being too harsh about Hanley Ramirez's awful fielding skills as a shortstop, Kershaw most likely would have been perfect had any other shortstop been behind him. In any case, Kershaw made history, as did my personal hero Vin Scully, who called his 19th no-hitter. Overall, last night was about as close to perfect as it gets for Dodgers fans.
Want great tickets but hate paying fees? Check CHARGED.fm to find tickets for less and NO FEES!