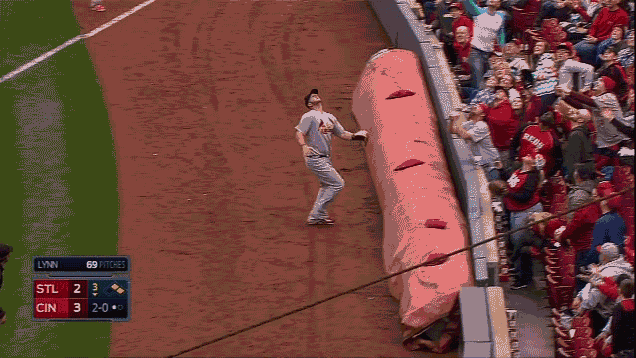 In this article…

The first week of baseball has already given us a lot of weird moments, and some of those are thanks to the new expanded use of replay. But the GIF above of St. Louis Cardinals first baseman Matt Adams shoving a Cincinnati Reds fan after said fan caught a foul ball he was going after is right up there for GIF of the Year in the young season. It's not the play itself, or even the shove, but what comes after that makes this GIF so great: the fan defiantly gives him the middle finger.
Nothing gets the point across like a good flip of the bird, and it was very much earned here. The fan brushed off the shove and still had the ball in his glove, so why not add a little insult on top of it?
All of this seems pretty playful and definitely shouldn't be blown out of proportion. Adams barely touched the fan, and he responded accordingly with his middle finger and the satisfaction of stealing a possible out. Should Adams have even shoved him? Probably not, if he hadn't, we would have been deprived of this glorious moment in player/fan interaction history.
The Cardinals ended up getting the last laugh with the 7-6 win, so you could say St. Louis responded like this:
(First GIF via Deadspin; Second GIF via GIPHY)
Want great tickets but hate paying fees? Check CHARGED.fm to find tickets for less and NO FEES!