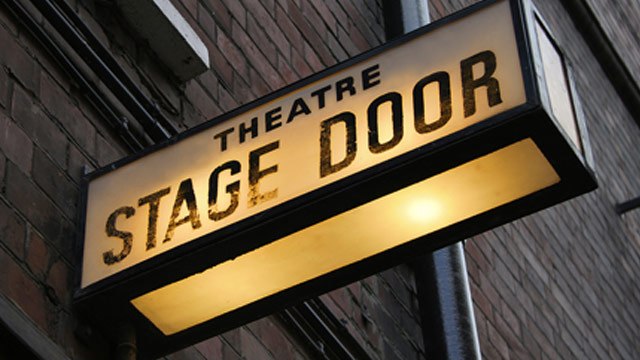 Two ships passing in the night. Such is the metaphor that could describe the basic framework of the play Jonah and Otto currently in its final performances at Theatre Row. Except that the main characters are not ships but two men who during the course of the play embark on something of a philosophical journey.
Written by Robert Holman, the drama opens when two strangers - a late-50ish Otto (Sean Gormley) and a mid-twenties Jonah (Rupert Simonian) - cross paths in a park by the sea. The encounter sets off an alternatively antagonist and introspective dialogue between the two. Otto is a vicar who appears to have lost his faith and has a troubled relationship with his four daughters. Jonah projects a street-hardened exterior which can't quite hide a capacity for serious reflection. Jonah also has a cart with which he is carrying his baby daughter.
Neither of the characters seem particularly grounded. One might think that with the age difference, Otto might emerge as something of a mentor to the younger Jonah. But it appears that both are psychologically lost and uncertain in a rather universal way.
There isn't much of a plot to the play other than the fact that the characters overcome an initial suspicion and antagonism of each other and arrive at a conciliation after gradually expressing their inner thoughts. Those thoughts I suspect are similar to what one would hear if peoples' social masks were ripped off and they honestly expressed their hopes, fears, expectations (dashed and otherwise) and described their relationships (successful and otherwise). The type of patter presented I suspect is probably similar to what a psychiatrist hears in a typical session from a patient who is rather confused about the direction of his or her life. While watching the show I was reminded of some of the writing of Carl Jung in which he states that many have lost their sense of meaning with the collapse (for some) of religious symbols which can provide a conceptual foundation to life.
Two actor plays are difficult to perform as both actors obviously have to be good or the play can seem distorted and/or the audience will soon lose interest. Both Gormley and Simonian are in complete mastery of their roles. A certain tentativeness that Gormley appropriately displays as Otto is nicely balanced with the more aggressive, tough and streetwise energy of Simonian as Jonah.
Jonah and Otto was first performed in 2008 in Manchester. Curiously, though Holman has been an active and established playwright in Britain since the early 1970s, this is his first play that has been produced in New York.
Although I thought the drama worked well on its own terms if the audience is willing to follow along with its almost stream of consciousness dialogue, the play might have been served if some type of device had been introduced to heighten the tension - what Alfred Hitchcock referred to as a "McGuffin." One thinks, for example, of the dramatic dueling that occurs in another play largely focused on two characters, Sleuth, when the discovery of an adulterous affair sets off a plot for revenge. But perhaps it was Holman's intent to show that life can at times appear plotless, and that changes can be made through more subtle processes.
The production is directed by Geraldine Hughes. In addition to being a director, Hughes has had a distinguished acting career, appearing in Broadway productions of Jerusalem and Translations and such films as Rocky Balboa and Gran Torino. The atmospheric set was designed by Ann Beyersdorfer.
To use a metaphor that began this review, as Jonah and Otto comes to a close and the two ships bid each other farewell, one is left with the hope that they will now more happily make their way through the existentialist fog.
Jonah and Otto performs through this Saturday February 25 at the Lion Theatre located at Theater Row at 410 West 42 nd St.